Features
For ambitious entrepreneurs who want maximum growth. Let us do the heavy lifting when it comes to payments and everything that comes with it, so you can entirely focus on your core business. Discover our revenue-increasing and time-saving modules.
Revenue increasing payment process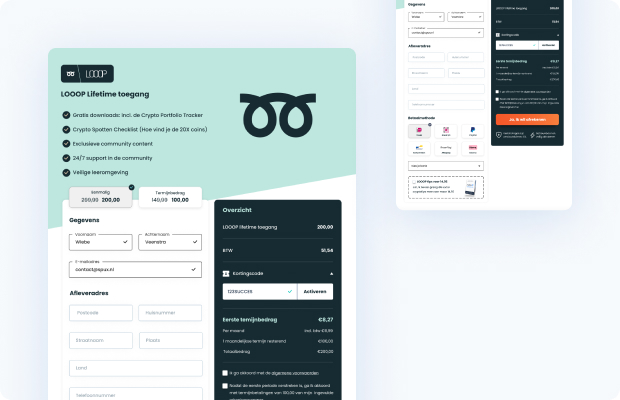 Betaalpagina
PayPro's online checkout page is a ready-made solution that you can get up and running within minutes and that is optimized for conversion. Whether you want to receive one-time payments or recurring payments for your subscriptions, PayPro's payment page has got you covered! No technical knowledge is required.
Optimized for highst conversions
1-Click-Upsell
Discount codes
Subscriptions & Payment plan
Do you offer subscriptions? Or products that your customers pay for in installments? With the subscriptions & payment plan module, PayPro arranges your subscription and installment payments automatically via SEPA direct debit. Safe and simple.
Full Flexibility
Import current subscriptions
Debtor management
Allround Crossfit Subscription
Allround Crossfit Subscription
Debtor management
If your customer defaults, PayPro will attempt to get your customer to pay their invoice as soon as possible through our debtor management process in which we send your customer payment reminders.
Send reminders by email
Include an iDEAL and Bancontact paymentlink
Transferable to collection agency
Get paid
Less administrative burden
Invoicing
Saveyourself valuable time with PayPro's invoicing feature. We automatically send an invoice to your customers after each sale. You can customize the layout to your liking. You can also generate invoices that are not triggered by a sale and send them to your customers in order to get paid.
Automatically generated
In your house style
With iDEAL payment link for pre-invoicing, and more
VAT Accounting & Reporting
Get direct insight into your revenue, sales, and VAT. In VAT Accounting & Reporting, PayPro breaks down your sales history completely. This report can also be used for VAT returns.
Easy to use
Detailed overview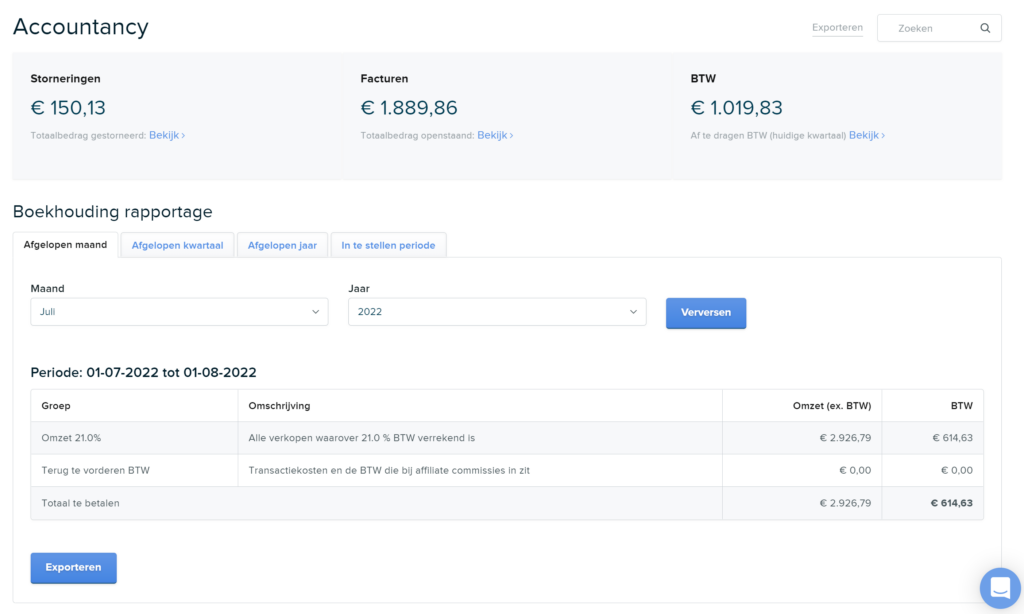 Boost Revenue with Affiliate Marketing
Boost branding, visitors & sales!
Do you want to add another marketing channel to your business? The affiliates in our network are happy to take your business to the next level. They send visitors to your website/webshop in return for a commission when one of those referred visitors buys your product.
Increase your sales
Increase brand awareness
Performance based: pay only for measurable results
More than 5,000 active affiliates
This is what our customers have to say about PayPro
"Always ready to help you out"
Wonderful company to work with. They are innovative and always ready to help you out. PayPro is very easy to work with and the payment pages are easy and quick to setup and manage.

"Easy and trusted checkout"
"With PayPro's payment page, your customers can checkout in a breeze with full confidence. The order bump functionality provides additional sales!"

"PayPro is an important strategic partner"
PayPro has been my go-to solution when it comes to online payments for many years now. It is the obvious choice for my company. The checkout pages always result in a smooth payment process.

Learn about our time-saving and sales-boosting payment process
Grow your business. Check out all our functionalities completely free of charge for 30 days.