PayPro biedt volledige betaalservices voor WeChat
Chinese app zet vol in op groei in Europa
Groningen, 04 juni 2018 – Betaaldienstverlener PayPro (www.paypro.nl) biedt door een samenwerking met internetgigant Tencent sinds vandaag volledige betaalservices voor WeChat Pay. Hiermee kan er in zowel de webshop als in de winkel worden betaald met WeChat Pay. In de winkel kan er gebruik worden gemaakt van een POS (point-of-sale; een pinapparaat voor WeChat Pay).
PayPro is een PSP in Nederland en Europa die een 100% oplossing van WeChat Pay aanbiedt. "Online ondernemers en retailers in Nederland kunnen nu ook profiteren van de enorme business kansen die WeChat Pay biedt. Inmiddels telt de app meer dan 1 miljard gebruikers. Het gebruik in Europa en dus ook in Nederland groeit gestaag. Het feit dat wij – als betaaldienstverlener met een vergunning van De Nederlandsche Bank – een totaaloplossing aanbieden heeft zeker meegespeeld in het verkrijgen van de licentie. We zijn er als team bijzonder trots op!", aldus Henk Jan Wils (eigenaar van PayPro).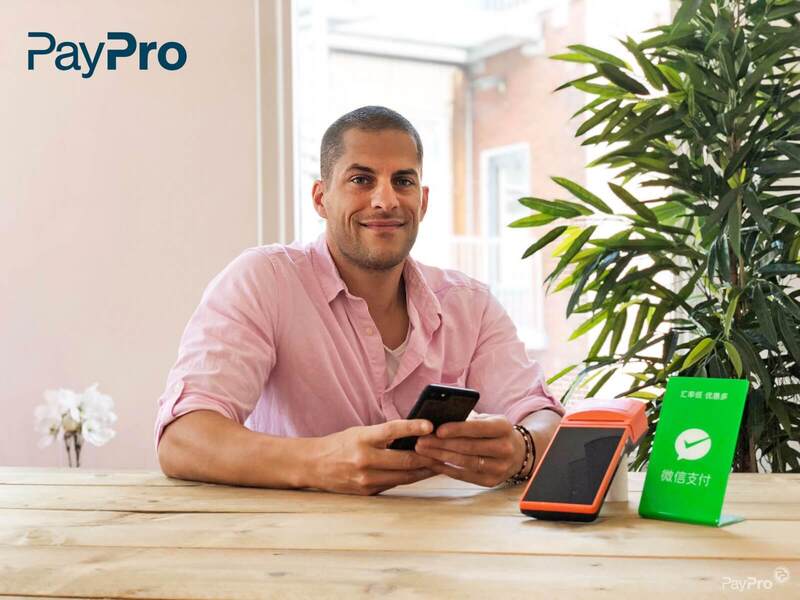 Over WeChat
WeChat is iDEAL, Tikkie, Facebook, Instagram, Marktplaats, PayPal en WhatsApp in één app en is geheel ingebed in het dagelijks leven in China. Buiten China maken 100 miljoen mensen gebruik van de app. Naast de functie als social-media-kanaal biedt WeChat bedrijven de mogelijkheid om hun eigen mini-webshop te exploiteren. "Daarnaast betalen mensen er hun eten mee of bestellen ze een taxi. Ze betalen in winkels of bankieren via de app. Het online en offline betalingsgemak maakt WeChat mede zo populair. Wij faciliteren als enige betaaldienstverlener in Nederland deze beide opties binnen WeChat Pay."
Eerste Nederlandse bedrijven al aangesloten

Inmiddels hebben we de eerste bedrijven in Nederland al aangesloten met de oplossingen WeChat Pay Native en WeChat Quick Pay. Er is geen pinpas meer nodig om betalingen te doen. "Scannen (Native) of gescand worden (Quick Pay) is the way to go. Uiteraard gebeurt dit binnen een uiterst veilige omgeving." aldus Wils.
Over PayPro
Als betaaldienstverlener handelt PayPro (www.paypro.nl) het betalingsverkeer af voor ondernemers. Naast iDEAL en iDEAL QR ondersteunt PayPro ook nog 8 veel gebruikte betaalmethoden. Veiligheid van geld en gegevens staan centraal bij PayPro. PayPro heeft sinds 2012 al een vergunning van De Nederlandsche Bank. Deze vergunning betekent dat PayPro een betaalinstelling is, die onder permanent toezicht staat van De Nederlandsche Bank en de Autoriteit Financiële Markten (AFM).